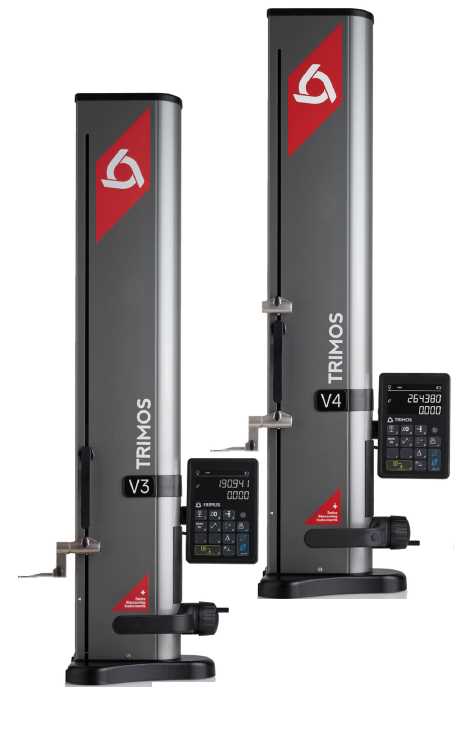 V3 / V4
The V3 and V4 vertical measuring instruments have been developed for the most difficult workshop environments.
Manufactured in their entirety in Switzerland, they will guarantee a robust, precise and reliable product on the long run.
For more than 40 years, Trimos philosophy has been to offer easy-to-use instruments that are very efficient in production environment.
The display unit provides functions that are directly accessible and depicted with symbols easy to understand.
This allows for easy and quick handling even by unqualified personnel. The large 2-line display offers an exceptional contrast in all lighting conditions, an unique characteristic currently on the market
MEASURING RANGES 400 and 700 MM
EXTREMELY EASY TO OPERATE
ELECTRONICALLY ADJUSTABLE MEASURING FORCE
STANDARD PROBES UP TO 400 MM
VAST RANGE OF ACCESSORIES
ALL ADJUSTMENTS POSSIBLE WITHOUT TOOLS
RS232 and USB INTERFACES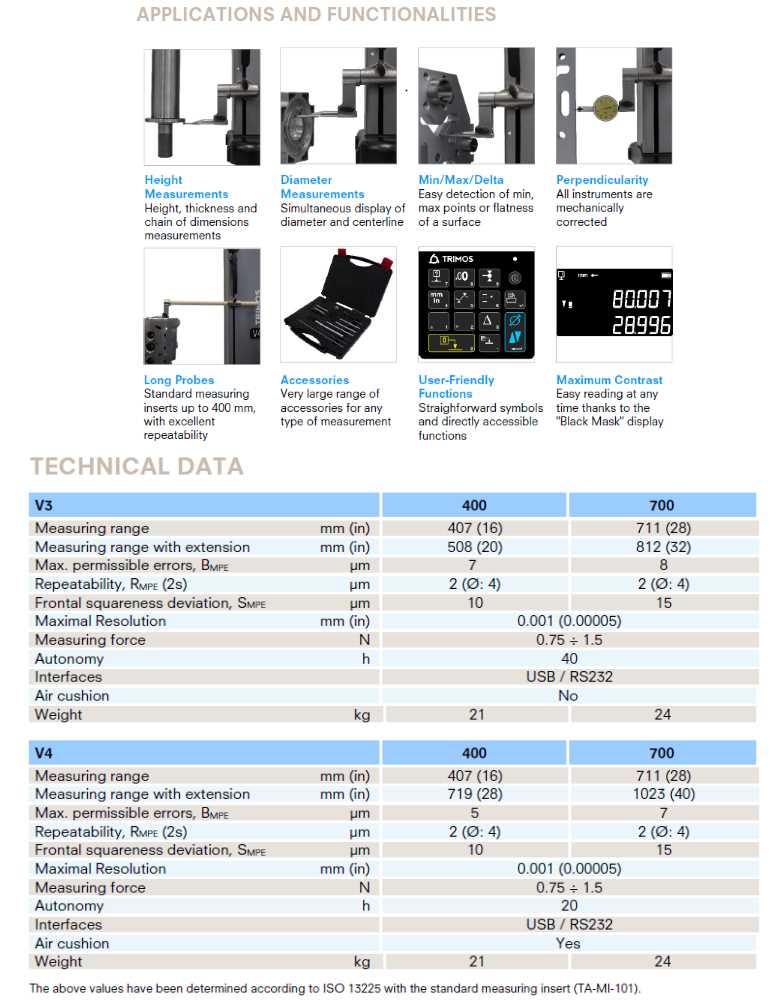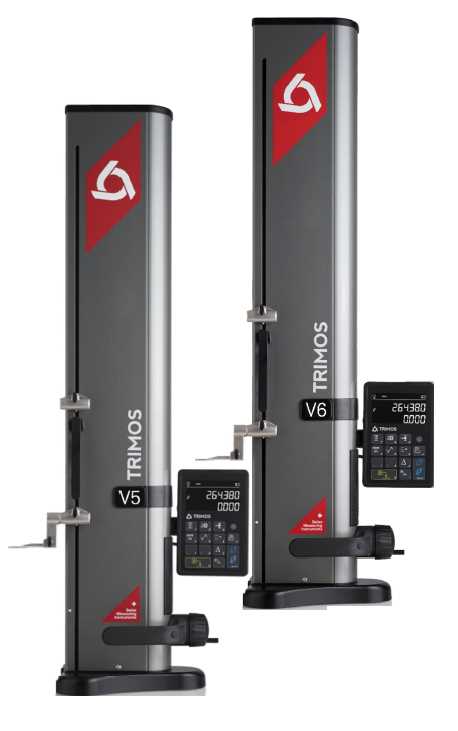 V5 / V6
The vertical measuring instruments V5 and V6 are the descendants of the lengendary V+ line, from which thousands of units have already been sold all over the world and are universally recognised for their ease of use and high quality.
The V5 and V6 represents a consolidation of know-how accumulated over the last 40 years. The prominent display and the user-friendly functions offer exceptional ease of use.
It is also equipped with a revolutionary displacement handwheel which offers the user a choice of the displacement in manual or motor-driven mode.
MEASURING RANGES 400, 700 and 1100 MM
EXTREMELY EASY TO USE
ELECTRONICALLY ADJUSTABLE MEASURING FORCE
MANUAL OR MOTOR-DRIVEN DISPLACEMENT
VAST RANGE OF ACCESSORIES
STANDARD PROBES UP TO 400 MM
ALL ADJUSTMENTS POSSIBLE WITHOUT ADDITIONAL TOOLS
RS232 and USB INTERFACES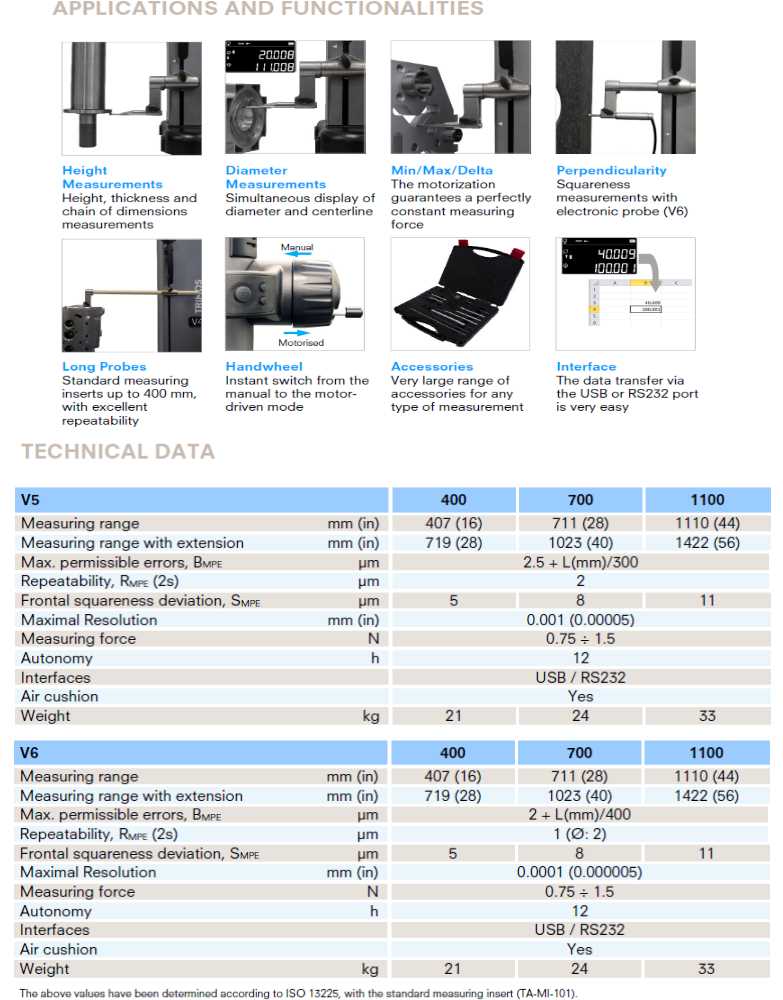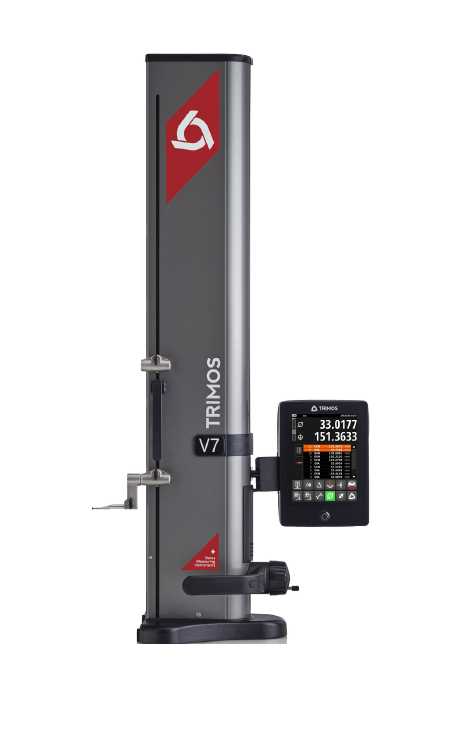 V7
The V7 height gauges combine technological innovation and tradition. With their touch-display and lateral insert holders, which have been proven their worth for decades, the V7 is ranked as the universal instruments for the workshop.
The touch display allows a maximum simplified use with no superfluous information being displayed giving only easy and mandatory functional buttons built to handle complex 2D, programming and statistical calculations.
It results in extremely high level ease of use and substantial increase in productivity.
MEASURING RANGES 400 to 1800 MM
SIMPLE AND EASY TO USE GRAPHIC INTERFACE
ELEECTRONICALLY ADJUSTABLE MEASURING FORCE
MANUAL OR MOTORIZED DISPLACEMENT MODE
2D, PROGRAMMING AND STATISCAL CALCULATIONS
LARGE RANGE OF ACCESSORIES
ALL ADJUSTMENTS POSSIBLE WITHOUT ADDITIONAL TOOLS
RS232 and USB INTERFACES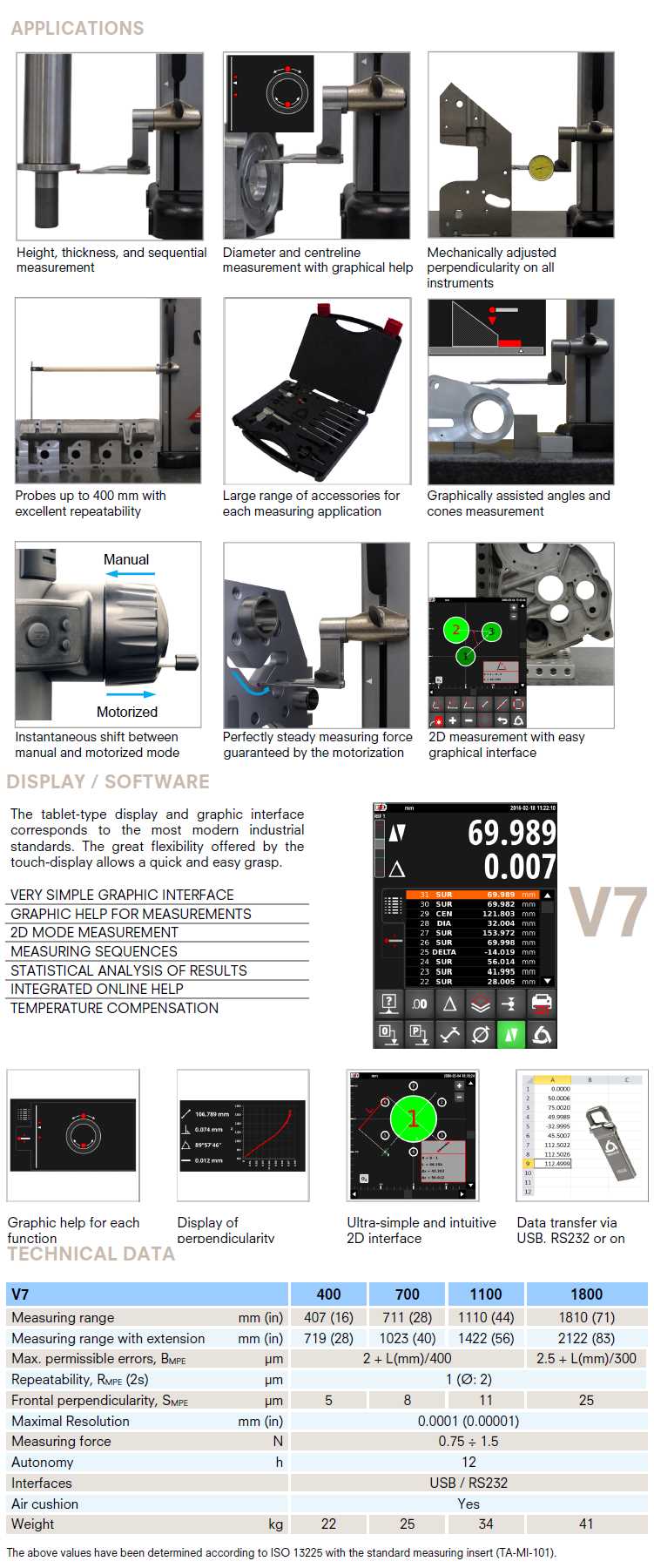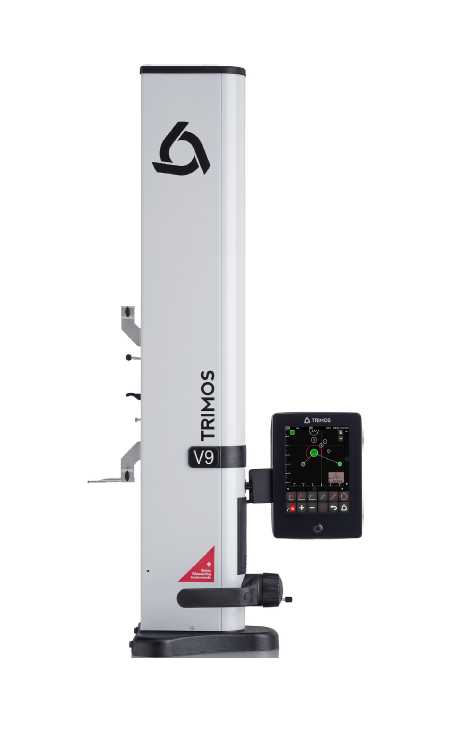 V9
The V9 has been developed for the most demanding users. Laboratories and workshops for whom high level of precision and measuring reliability is required will fully appreciate this instrument.
No compromise on precision and repeatability is being tolerated for this instrument where some specific construction and design details differs from other models.
The display, based on an entirely tactile interface, offers a new level of ease of use never once reached for a vertical measuring instrument. The menus and functions displayed operate within a very strict philosophy and design to allow for greatest efficiency.
MEASURING RANGES 400 to 1100 MM
EXCEPTIONAL HIGH PRECISION LEVEL
ELEECTRONICALLY ADJUSTABLE MEASURING FORCE
MANUAL OR MOTORIZED DISPLACEMENT MODE
2D, PROGRAMMING AND STATISCAL CALCULATIONS
LARGE RANGE OF ACCESSORIES
ALL ADJUSTMENTS POSSIBLE WITHOUT ADDITIONAL TOOLS
RS232 and USB INTERFACES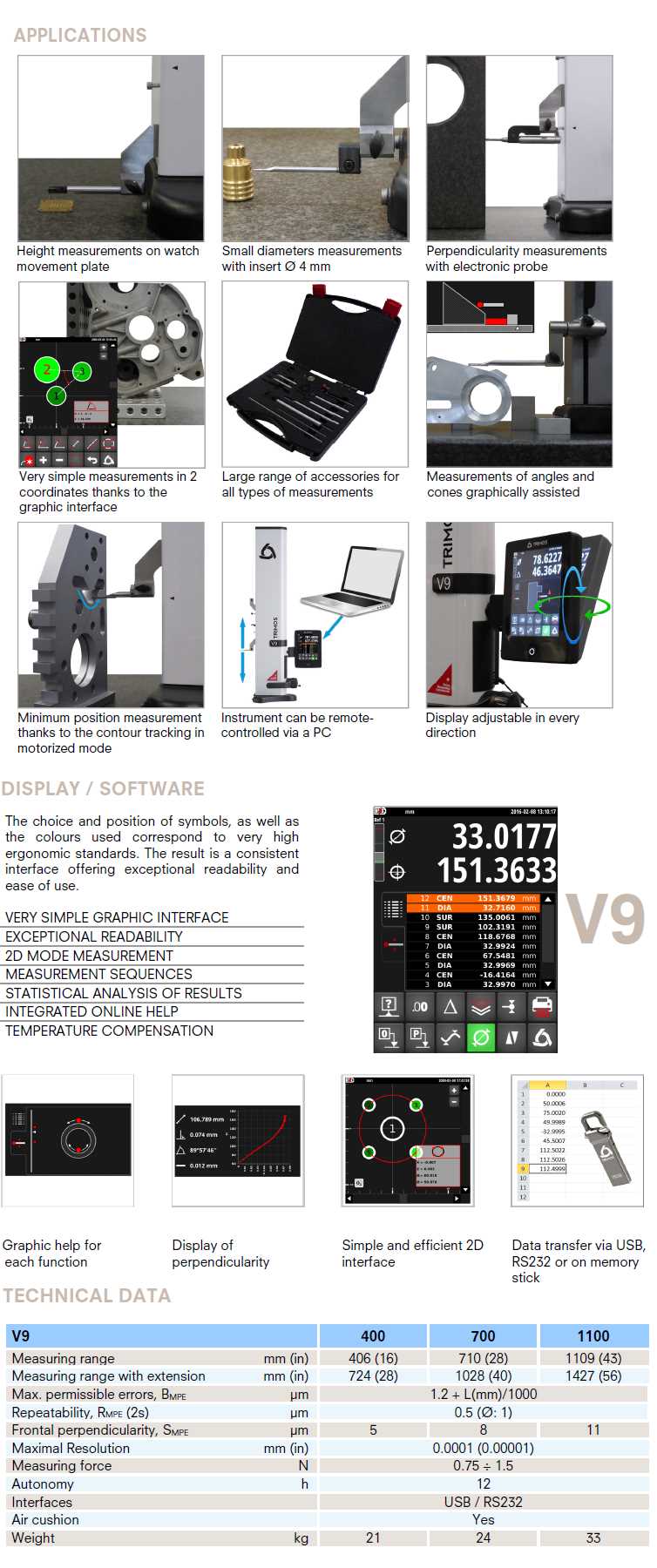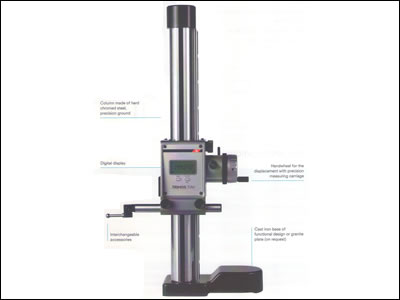 TVM
The TVM instruments are perfect for height measurements and scribing work and reliable in all kinds of workshop conditions. The result of an unique, compact design of the instrument is great mobility and extreme stability.
Because of its advanced measuring system, the self-contained working time of the TVM is one year. Therefore it can be used for multiple applications in the workshop area. The simplicity of manipulation allows constant change of the user without any time-consuming training.
The success of the TVM among competitive gauges is outstanding. More than 14000 instruments are in use worldwide.
Three models are available: with application range from 300 to 1000mm. A large range of accessories for all kinds of measuring applications is available.
ROBUST AND COMPACT CONSTRUCTION
PERFECT FOR USE IN PRODUCTION AREA
ACCURATE AND RELIABLE MEASUREMENTS
USER FRIENDLY
OPTO-RS232 DATA OUTPUT
RECHARGEABLE BATTERY PACK
TWO MODELS: CAST IRON BASE OR A GRANITE BASE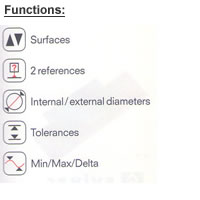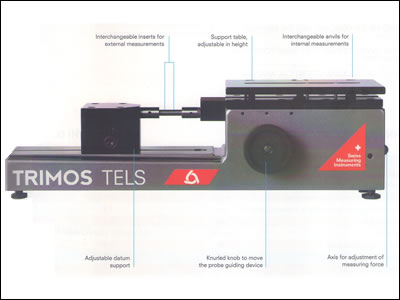 TELS
The Mini-Horizontal TELS is the ideal instrument for checking small dimensions. It is part of the horizontal instruments family.
The instrument is mainly used for checking internal and external dimensions, such as ring gauges, plug gauges, thread plug gauges and for measuring precision production parts.
The reliable concept is easily suitable for the use in workshop environment.
An electronic probe and digital display unit or simply a dial indicator can be applied to perform all measurements. The selection of the measuring system depends on the required accuracy.
The range for internal measurements from 10 to 100mm and external measurements from 0 to 100mm covers a large number of applications. The absolute measuring range is 25mm and a preset setting is necessary to obtain an entire length.
A wide range of accessories are available.
IDEAL FOR CHECKING SMALL DIMENSIONS
EASY MANIPULATION
SUITABLE FOR USE IN WORKSHOP AREA
WIDE SELECTION OF ACCESSORIES
Functions of Sylvac Display Unit:
Selection of measuring unit mm/inch
Analog display
Input and display of tolerance limits
Classification (2-6 classes)
Input and setting of preset values
Inversion of measuring direction (+/-)
Channel selection
Value hold
Locking of the keyboard and the mm/inch selection
External contact function using foot pedal or computer
Print-out of value and statistical analysis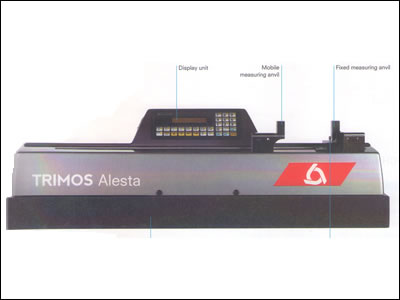 Alesta
The Alesta family is a product that simplifies the setting of 2-point bore gauges. It replaces the traditional way using a lot of different rings.
Thanks to innovative adapters, a positioning error will be eliminated and the speed of measurements increased. You just input the dimension into the key board and the required mobile carriage will position itself automatically onto this position. The mobile carriage system will always stay in the desired position even when applying a force on the anvils.
The stable granite base combined with a high precision measuring system guarantees excellent measuring results. Using a tolerance table the carriage can be positioned to the selected tolerance range. This table can be tailor-made to customer's requirements. This product achieves a typical return on investment of 2 years. The acquistion of new rings and their calibration will be eliminated. The instrument range includes 3 models: 300, 500 and 1000mm.
IDEAL FOR USE IN THE WORKSHOP AREA
VERY SIMPLE MANIPULATION
MOTORIZED CARRIAGE MOVEMENT
STABLE GRANITE BASE
HIGH PRECISION MEASURING SYSTEM (HEIDENHAIN)
TOLERANCE DATA BASE
WIDE SELECTION OF ADAPTERS AND ACCESSORIES
INTERNAL AND EXTERNAL MEASUREMENT POSSIBLE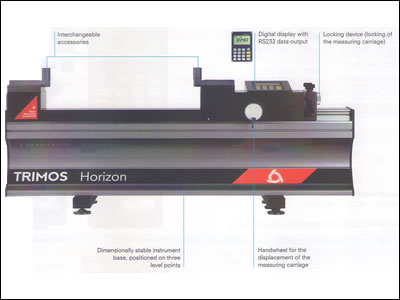 Horizon
The "Horizon" instruments respond to the current requirements for quality inspection in manufacturing areas. They allow a quick, precise checking and setting.
The instruments are perfect for setting all kinds of comparative measuring equipment and for checking length, internal and external diameters, thread gauges etc.
The new innovative concept with incorporated measuring system and display unit ensures excellent results by easy manipulation and is the answer to various demands in the field or production. Simplicity of use is an additional valuable advantage.
The instrument range comprises several models, from 500mm up to 2000mm (Granite 3000 - 8000mm). A wide selection of easy interchangeable accessories completes the application possibilities.
IDEAL FOR USE IN THE WORKSHOP AREA
VERY SIMPLE MANIPULATION
PRECISE CHECKING AND SETTING MADE EASY
SELF-CONTAINED OPERATION OF APPROX. 100 HOURS
WIDE SELECTION OF ACCESSORIES
Functions:
Selection of value: Normal/Min/Max
Zero setting of the display and preset input
RS232 date output
Two references
Selection of the resolution 0.01mm-0.001mm
Selection of measuring unit mm/inch (Direct conversion)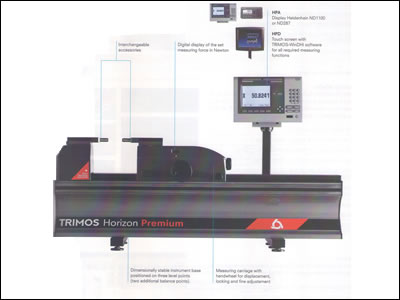 Horizon Premium
The HORIZON PREMIUM instruments fulfill today's requirements of high accuracy quality control equipment in production areas and take into consideration EN ISO 9000 standards.
The instruments may be used in a workshop area or installed in a quality control room for checking of measuring gauges and setting of all types of comparative measuring equipment. The well-designed, reliable new concept, obtained by syperior engineering. ensures high precision and optimum results by easy manipulation as well as a valuable level of productivity.
The modular design allows the selection between two measuring systems: analog signal output and Heidenhain display unit or digital signal output and computer with TFT touch screen and Trimos-Win DHI software.
Instruments with a measuring range from 500 to 3000mm are avaible, all of them built in one single piece. All measuring ranges being direct, it means that the whole measuring range is available without adjustment or intermediate re-calibration.
IDEAL FOR THE USE IN LABORATORY AND IN THE WORKSHOP
NEW ERGONOMIC CONCEPT
MEASURING CARRIAGE WITH FINE ADJUSTMENT
LARGE RANGE OF ACCESSORIES
ADJUSTABLE MEASURING FORCE
3 DISPLAYS AVAILABLE
MODULAR SYSTEM DESIGN
DIRECT MEASUREMENT OVER THE WHOLE RANGE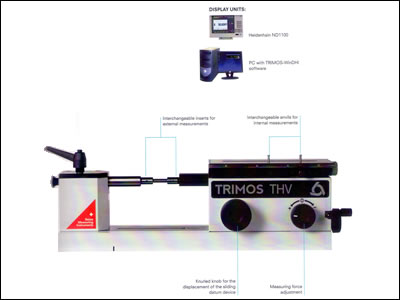 THV
The horizontal THV instrument has been designed for calibration and certification of gauging equipment of small dimension.
It allows easy and precise checking of plug gauges, ring gauges, thread plug gauges, test and dial indicators as well as measuring of high precision production parts.
The incorporated opto-electronic measuring system guarantees high accuracy. A separate display unit or a PC with Trimos WinDHI software can be used to display the measurement results.
The THV instruments can also be delivered without measuring system. An electronic probe or a dial indicator shall then be used as measuring system.
Due to its small size, the THV can be moved easily. It is therefore frequently used as mobile calibration station.
IDEAL FOR THE USE IN A CLEAN ROOM AND IN THE WORKSHOP AREA
THE INSTRUMENT MEETS THE REQUIREMENTS OF ALL EN ISO 9000
VERY SIMPLE MANIPULATION
LARGE RANGE OF ACCESSORIES
CHECKING OF INTERNAL AND EXTERNAL DIMENSIONS USING A SINGLE MEASURING ELEMENT
ACCORDING TO THE APPLICATION, THE INSTRUMENT CAN BE USED IN HORIZONTAL POSITION OR IT CAN BE INCLINED UP TO 90° USING THE ADDITIONAL STAND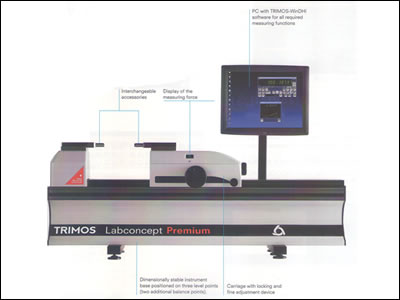 LabConcept Premium
The Labconcept and Labconcept Premium are high precision calibration systems that meet the most sophisticated requirements.
The up-to-date, well designed modular concept emables extremely secure functioning, facilitates the manipulation and therefore increases the productivity in the measuring laboratory. Simplicity and high accuracy have been associated.
This new concept, integrating a computer and a touch screen as well as the appropriate Trimos-WinDHI software with all necessary measuring functions guarantees the best results. A temperature compensation system as well as a gauge management system can be installed to enhance the system performance.
Instruments with a measuring range from 300 to 2000mm are available, all made in a single piece. All measuring ranges being direct, it means that the whole measuring range is available without adjustment or intermediate re-calibration.
MEETS THE REQUIRMENTS OF ALL EN ISO 9000
PC WITH EXCLUSIVE SOFTWARE WINDHI
HIGH PRECISION MEASURING SYSTEM
DIMENSIONALLY STABLE INSTRUMENT BASE
ADUSTABLE MEASURING FORCE (FROM O TO 12N)
LARGE RANGE OF ACCESSORIES
DIRECT MEASUREMENT OVER THE WHOLE MEASURING RANGE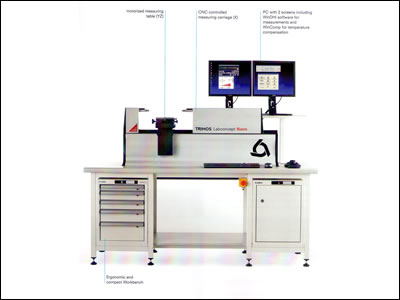 LabConcept Nano
No compromise on accuracy
The Labconcept Nano is a new reference in the field of dimensional metrology. It integrates 40 years of knowledge and continuous improvement. It is a remarkable instrument for all measuring tasks that require extremely high accuracy.
The uncompromising design of the Labconcept Nano offers an ideal and performing platform for checking and calibration of all kinds of gauges and measuring instruments. Checking of internal and external dimensions will be done as a fully automatic procedure by the three motorized axes XYZ and the legendary simplicity of use of Trimos WinDHI software.
The Labconcept Nano is completely designed and manufactured in Switzerland according to the highest quality standards. Robustness, reliability and longevity are our traditional values.
A New Technological Dimension
The Labconcept Nano combines tradition, experience and a strong tecnological lead. It integrates the latest measuring and motorisation technologies and can be considered as the first "full digital" calibration instrument. A regular PC controls all electroninc components. This low-power solution avoids heating and keeps the energy, maintenance and repair costs at a reasonable level. The linear bearings used in all guideways have proven their superiority over all other technologies in terms of precision, wear, rigidity, temperature stability, reliability, dust protection and maintenance. They ensure exceptional repeatability and precision through time.
UNEQUALLED HIGH LEVEL OF ACCURACY
EXCEPTIONAL REPEATABILITY
MOTORIZED MEASURING CARRIAGE, X AXIS, SELECTION OF SPEED BY SOFTWARE
MOTORIZED UNIVERSAL MEASURING TABLE, CNC Y AND Z AXIS WITH INTEGRATED MEASURING SYSTEM
MEASURING FORCE (0-12N) AND LOCKING OF MEASURING ANVIL PERFORMED BY SOFTWARE
INTEGRATED TEMPERATURE COMPENSATION SYSTEM
ABSOLUTE MEASURING RANGE ON ALL MODELS: 350MM
APPLICATION RANGES OF 350, 600 AND 1100MM
MEASURING OF PARTS UP TO 60KG IN WEIGHT
2 SCREENS IN THE STANDARD PACKAGE
CNC CONTROLLED MEASUREMENTS EVEN ON DIAMETERS AND THREADS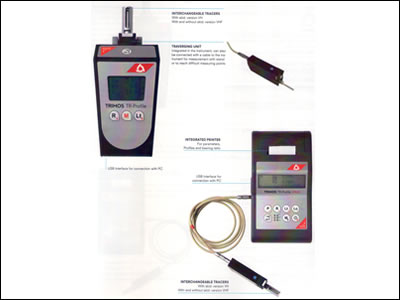 TR Profile
The TR Profile and TR Profile DH-8 are extremely precise surface roughness measuring instruments, built for the use in the workshop and on production lines as well as in the lab.
From the simple roughness measurement without accessories, directly on the machine, to the measurements in the laboratory with measuring support, special tracers and other accessories, including the recording of contours, the TR Profile and TR Profile DH-8 offer maximum flexibility for surface analysis.
The tracers are the core pieces of the roughness meters. They are, to a wide extent, the determining factor of the precision of the measuring values obtained. The great choice of tracers is the result of decades of experience in the construction of such probes. The traversing unit with an integrated reference flat allows to effect precise measurements also with skidless tracers (VHF versions). The traversing units of TR Profile and TR Profile DH-8 are identical.
All instruments can be connected to a PC. They are delivered with a simple analysis software.
LINEARITY AND MEASURING ACCURACY
APPLICATION FLEXIBILITY
LARGE RANGE OF ACCESSORIES
REMOVABLE TRAVERSING UNITS
RECHARGEABLE BATTERY FOR MOBILE APPLICATIONS
TRACERS WITH AND WITHOUT SKID
EASE OF USE